It's important that you know
Our designs are hand punched by a very experienced digitizer.  We NEVER use an "auto-digitizing" software component to create your logo.  We believe that no software can think through pathing and digitize a logo as efficiently as an experienced human. All digitizing is done on the latest Wilcom software.
Here's how it works:
1. Send in your artwork, if you need a quote, you'll get one the same day, often in the same hour!
2. Once you've given us the "go ahead", and we have all the correct artwork and info, we go to work. We ask that you provide us with good, clean artwork.  You'll have your design in 1-2 working days.
3. You will always get a digital scan of your design to approve so we can do any preliminary edits for you. Once approved, you'll get all the colorway information and the stitch file.
Your design is ready for production!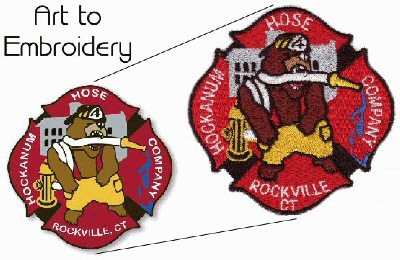 We can send the logo to you OR directly to your embroiderer….Fast and Easy!   We also archive your designs indefinately so you never have to worry if you misplace the stitch file or your computer crashes.
Using your VISA/Mastercard, you can set up an account and email or fax your artwork in…the logo appears in your e-mailbox a day or two later. Simple.
For your convenience, we also accept payment by Pay Pal or company checks, OR…To apply for terms, contact us.
Pricing 
When we price our services, we take into consideration the complexity/simplicity of the design as well as the stitch count and for that reason a quote is necessary to know what your service will cost. We do have a $60 minimum but at times we may drop our minimum for small/simple designs or remove the largest area of fill from the final stitch count (for pricing purposes). 
You are basically paying for our expertise and time.  We always try to be cost effective in our pricing for you. Just drop your art to us in an email and tell us what type of garments you'll be sewing the design on. We will give you a quote for FREE.
All designs we digitize are sewn out to verify the quality and a photo is scanned of the actual sewout on fabric for you to see and approve.
We also include many little extras in our services for no extra charge. Many times a second size version is FREE depending on the design. Ask us about this!
Quotes

: To get a specific quote, email us your art, QUOTES ARE ALWAYS FREE!  donna@needleup.com

Rush fees:  If you need the design within the same business day (24 hours) or over a weekend, a rush charge of $25 may be incurred. Normal turnaround time is 1-2 business days without a rush fee –  NeedleUp is not open on Sat and Sun.

Any corrections needed are made at no charge up to 5 working days after delivery of logo.

Keyboard Lettering Only – left chest $20.00
Keyboard Lettering Only – jacket back $30.00

Extra sewouts: $8.00 each for left chests     $10.00 each for jacket sized logos

Our logos are created at specific sizes for specific applications; it is not recommended to shrink or enlarge any design more than 10%. Quality can no longer be guaranteed if you alter the design files.

Re-editing stemming from customer changes to the artwork may result in editing fees**
 Editing
 If we edit OUR OWN designs to improve the quality or sewability for you, it's free.
Send us your problem designs to see if we can edit them without costly repunching.
$40.00/hour
$20.00/30 minutes (minimum)  Most editing falls into this range
Names:
$3.00 each (keyboard fonts)
** Editing costs will incur if changes are made to the artwork once digitized.
Delivery: All digitized logos are sent via email, or for an additional fee, on disk or CD via us mail or UPS.  Designs are released after payment is received unless customer has applied for and gotten terms.
 Ready?  Let's get to work!
Send us your logo in any of these formats: jpg, bmp, tif, eps, png, ai, cdr, psd, pdf
For a recommendation of an embroiderer to get your logo embroidered on garments… call us… 303-287-6633.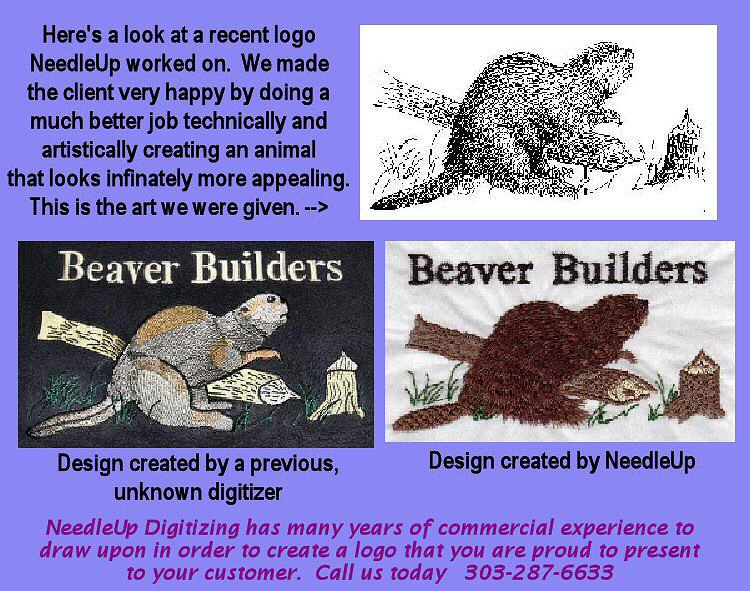 **********************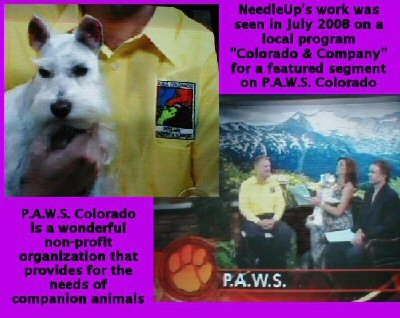 CLOSE UP –
We were very pleased to digitize the P.A.W.S logo!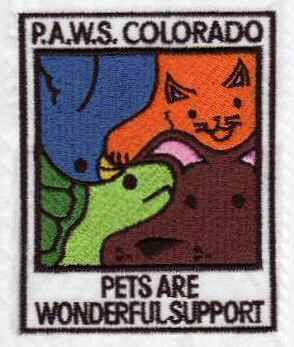 Sample Design:
Would you like to sew out one of our designs?
Click below to download this dst file